Mayor John Tory proclaims June is Brain Injury Awareness Month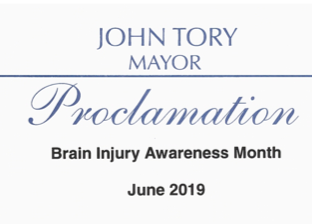 Read the Proclamation, HERE
UnMasking Brain Injury exhibit at Queen's Park – May 30, 2019
A great way to kick off Brain Injury Awareness Month! Along with other Brain Injury Associations in Ontario, BIST participated in an UnMasking Brain Injury Exhibit at Queen's Park, in an event organized by the Ontario Brain Injury Association.
Music on the Brain Concert – June 9 at Rockpile
Join us on June 9th for an ABI-Friendly Concert featuring Carl Dixon of The Guess Who/ Coney Hatch, Melanie Peterson, Angela Saini, Melanie Frade and Matt Von & Sarah Jordan. Learn more, HERE
Brain Injury Awareness Booths – Throughout June
We'll be all over Toronto spreading awareness about BIST and Brain Injury in June! If you're in the neighbourhood, come by to say hi, grab new swag and help spread the word about brain injury.
Friday June 7, 10 – 4 pm
Friday, June 14, 11- 1 pm
Wednesday, June 19, 11- 2 pm
Saturday June 22, 10 – 4 pm AND Sunday June 23, 10 – 4 pm
Green and Blue CN Tower – June 12
Come sun down on the night of June 12th, be sure to look to the sky for a Green and Blue lit CN Tower – the colours of brain injury – in recognition of Brain Injury Awareness Month. If you're on social media, take a picture with the hashtags #BIAM19 #areyouaware with a message to spread ABI Awareness –  be sure to mention BIST in your post!)